Laser Clay Shooting Cruise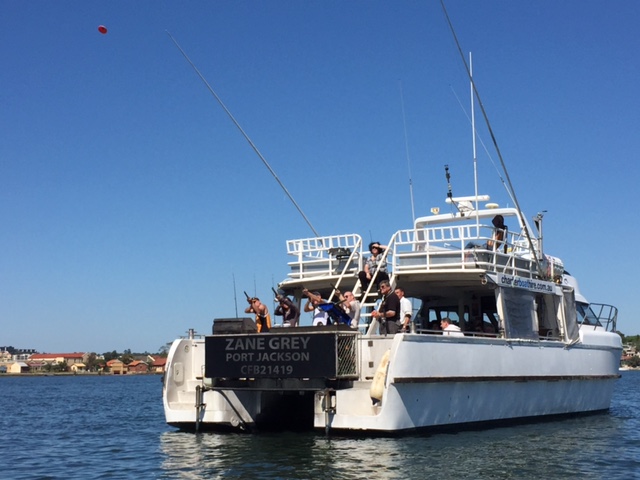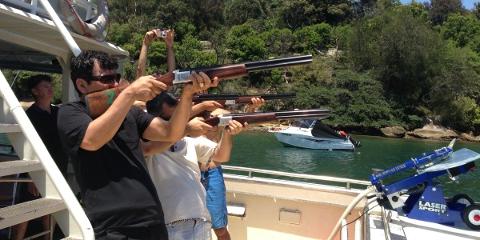 기간: 3 시 (대략)
상품 코드: LASER CRUISE
Build your own Harbour Cruise with Laser Clay Shooting
Take a 3 hour harbour cruise with laser clay shooting on the dual level catamaran, Zane Grey. Great for Christmas Parties, an End of Season activity or as a team building activity for both workplaces or sports teams.
Add catering and entertainment options to suit your needs and budget.

Book in five easy steps:
1. Enter the number of expected guests
2. Select a date you're interested in
3. Select a time slot
4. Add any entertainment or catering extras
5. Pay a deposit of 10% to secure your booking. Sorted!
Booking notes:
- The balance of payment is due two weeks prior to your event.
- If your event is within two weeks at the time of booking, full payment will be required.
- Allow a minimum of 90 mins for the laser clay shooting activity
- Due to firearms regulations, the laser clay activity is restricted to 18+
Entertainment options available include:
- travel to Watson's Bay for a seafood lunch at Doyles
- stop off at Athol Bay, Balmoral or other sheltered bay for a BBQ and swim
Catering:
Catering can be arranged, or you can bring your own catering. A BBQ is available for your use.
We're fully licensed, so beverages can be purchased onboard, or a bar tab can be arranged.
Pick up locations:
- Yeend St wharf, Birchgrove (good for those who are driving)
- Towns Place West, the Rocks (best if coming by bus)
- Opera House (best if coming by public transport)
Laser Clay shooting:
Groups are split into five teams, with each team given a shotgun. Discs are launched off the back of the boat with guests aiming to hit the targets before they land in the water. Hits are automatically recorded on the scoreboard, and there are sound effects for a bit of fun too.
This activity runs for around an hour to 90mins (longer for larger groups) and can be as fun or competitive as you want it to be. Up to five guests can play at any given time, with a number of rounds played to ensure everyone can have a turn. There's also a final round with the best shooter from each group playing off to determine the sharp shooter of the cruise. No experience required, but by law you do have to be 18+ in order to participate (valid ID must be sighted by the crew).
Please note that these are actual shotguns and although rendered permanently inoperable, must be treated as if they were a real weapon. Pointing shotguns at passing boats, aircraft, other people or using them in an unsafe manner will result in both the activity and cruise being terminated.
Vessel features:
- twin deck catamaran with great views from both levels
- esky available for food
- private bathroom
- friendly and experienced crew
- wheelchair accessible
What are you waiting for? Pick a date and Book Now!